Professionally Driven Institution
IHM Hamirpur is professionally driven Institute under the umbrella of NCHMCT. Renowned academicians and senior functionaries guide our systems and lay the roadmap for future endeavors. Board of Governors' and Technical Experts from relevant industries lay the roadmap for future endeavors.
It would be a great decision if you decide to pursue:-
1. 3-year B.Sc. Degree in Hospitality& Hotel Administration
2. 1 ½ year Diploma in Food & Beverage Service
3. 1 ½ year Craftsmanship Certificate Course in Food Production & Patisserie.
from IHM Hamirpur.
Hospitality Prospective:
We have ample number of reasons in taking admission at IHM Hamirpur and reaching your goals.
1. Management Trainee in Hotel and Allied Industry.
2. Hospitality Executive.
3. Kitchen Management/ House and Institutional Catering Supervisor or Assistant.
4. Faculty in Hotel Management/Food Craft Institute.
5. Cabin Crew in National and International Airlines.
6. Catering Officer in Cruise Line/Ships.
7. Marketing/Sales Executive in Hotel/ Multinational Companies.
8. Customer Services Executive in Banking/Insurance and Other Service Sectors.
9. Manager/Supervisor in Tourism Development Corporations.
10. Entrepreneurship opportunities.
11. Jobs in Government sectors and many more.
IHM Hamirpur has a dedicated team of faculty and staff. IHM Hamirpur is operating Career Guidance & Placement Cell (CGPC) to help the students to achieve their goals and provide the students a platform wherein they can learn and enhance their professional skills.
CGPC plan to achieve this by:
1. Identifying the requirements of the industry and make the students ready for Placements.
2. Providing qualitative training by inducing them with knowledge.
3. Assessing the current level of students and make training plans to mould them into professionals.
With innovative and interactive learning methods, cell is catering to all the aptitude, verbal ability and soft skills training requirements to all the students of IHM Hamirpur.
Students of IHM Hamirpur are selected in Top notch Hotel Chains like The Oberoi Group, The Taj Group of Hotels, I.T.C Group of Hotels, J.W. Marriott Hotels, Hilton Hotels, Radisson Hotels, Ashok Group of Hotels, Jaypee Group, Ascot Hotels, The Claridge, Hyatt Hotels, Lemon Tree Hotels, Leela Palace Hotels and Le Meridian Hotels are among the prominent five-star hotel chains which have selected Hotel Management students during campus placements
IHM has been the host to many great companies to work by organizing campus placement interviews for the final year students. Our efficient networking and placement cell ensures that new upcoming hospitality organizations participate in the recruitment drive. The institute also invites recruiters for pre-placement talks wherein their expectations are conveyed. For higher numbers of management trainees, institute organizes personality development programs for the budding hospitality professionals.
The previous batches of our Three-year degree program, and One and Half year Craft Course are already working with leading Hospitality organizations in India and abroad. Taking these things in our stride students of IHM Hamirpur have also preformed and shown their worth.
Despite of COVID-19 pandemic situation in hospitality sector there has been a jump of 25% in number of Recruiters who selected the students from IHM Hamirpur. The total number of offers touched 51 out of 57 students who opted for campus placement which exclude the couple of Entrepreneurs from the last batch. The highest package offered during campus placements is 2.52 LPA offered by Bikaner.
Growth is not only confined to increase in no. of companies but also packages offered thus leading to an exponential growth.
IHM HAMIRPUR has emerged as leader in providing students with highly lucrative job opportunities and premium pay packages. More than 30 companies have extended on-campus visits and package offers up to 2.52 LPA despite of COVID-19 situation in hospitality sector.
Career Guidance & Placement Incharge
Mr Puneet Banta
HOD
Contact No. 094188-53500

Training Coordinator
Mr. Romi Sharma
Assistant Lecturer
Contact No. 98174-93382

Placement Coordinator
Mr. Gunjan Umakant
Teaching Associate
Contact No. 80069-91991
Properties visited at IHM Hamirpur for Placement in year 2021
| | |
| --- | --- |
| S.No. | Name of The Organization |
| 1 | The Oberoi Hotels and Resorts |
| 2 | Taj Yashwantpur, Banglore |
| 3 | The Novotel Hotels and Resorts |
| 4 | J.W. Marriott Hotels |
| 5 | Leela Palace Banglore |
| 6 | Lemon Tree Hotels |
| 7 | Hilton Hotels |
| 8 | Radisson Hotels |
| 9 | Hyatt Hotels and Resorts |
| 10 | Fern Hotels and Resorts |
| 11 | ITC Group of Hotels |
| 12 | Absolute Barbecue |
| 13 | Milestone Hospitality |
| 14 | Burger King |
| 15 | The Claridges |
| 16 | Orange Tiger Hospitality |
| 17 | Haldiram |
| 18 | Seven Seas Hospitality Pvt. Ltd. |
| 19 | Radisson Hotels |
| 20 | Ascot Hotels |
| 21 | Jaypee Group of Hotels |
| 22 | Ashok Group of Hotels |
| 23 | Le Maridian Hotels |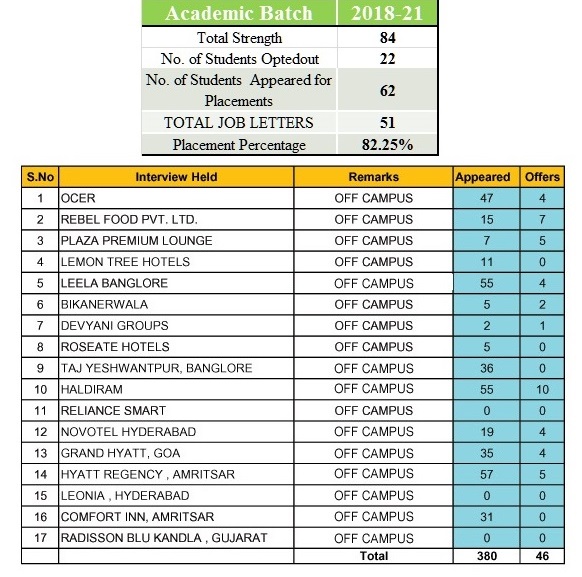 Note:- Final results for some of the properties are still awaited and has not been added in the placement stats.
Properties visited at IHM Hamirpur for Industrial Training in year 2021
Industrial Training: B. Sc. H&HA (Batch 2020-2023)
| | |
| --- | --- |
| S.No. | Name of The Organization |
| 1 | The Oberoi Wildflower Hall, Shimla |
| 2 | Taj Yashwantpur, Banglore |
| 3 | Taj , Theog |
| 4 | ITC Gardenia, Banglore |
| 5 | ITC Kohenur, Hyderabad |
| 6 | ITC Windsore, Banglore |
| 7 | The Leela Palace, Delhi |
| 8 | The Lodhi, Delhi |
| 9 | Double Tree by Hilton Baani Square, Gurgaon |
| 10 | Double Tree by Hilton, Banglore |
| 11 | Courtyard by Marriott, Gurgaon |
| 12 | ITC Fortune, Goa |
| 13 | Taj Holiday Village Resort & Spa, Goa |
| 14 | Taj Fort Aguada Resort & Spa, Goa |
| 15 | J.W. Marriott, Chandigarh |
| 16 | ITC Fortune, Jaipur |
| 17 | Hyatt Regency, Amritsar |
| 18 | Radisson Blu, New Delhi |
INDUSTRIAL TRAINING: CCCFPP(BATCH 2020-2021)
| | |
| --- | --- |
| S. No. | Name of The Organization |
| 1 | J.W. Marriott, Chandigarh |
| 2 | Taj, Banglore |
| 3 | Country Inn & Suites, Zirakpur |
| 4 | Ramada Jalandhar |
| 5 | Pride Ambervillas, Jaipur |
| 6 | The Chalet, Naldhera |
| 7 | Hyatt Regency, Chandigarh |
| 8 | Park Plaza Zirakpur |
| 9 | BARBEQUE NATION |
Profile of Batch 2019-2022 Click Here >>